Podcast: Play in new window | Download (Duration: 42:41 — 14.4MB)
Subscribe! RSS
Since our last "legitimate political discourse," Putin invaded Ukraine on what he labeled a peacekeeping mission (complete with bombs, missiles and miles-long convoys), President Biden began what the White House hopes is a reset with his State of the Union address, and the debate over Michigan's new legislative districts' impact on African-American voters became more heated.
Public relations and political consultant Darci McConnell joins the conversation to weigh in on the latter, as well as help us take the political temperature of Southeast Michigan.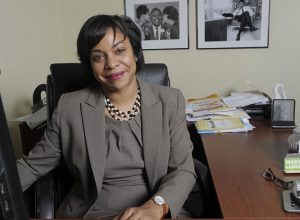 A graduate of the University of Michigan, McConnell is no stranger to local government and politics. As president and CEO of Detroit-based McConnell Communications, Inc., she routinely works with local municipalities and politicians and in 2020, she was appointed to the Grosse Pointe Park City Council – the first African American to serve.
She has owned and operated her public relations business for 18 years and previously spent 14 years as a newspaper reporter across Michigan as well as in Washington, D.C. Her personal passion is making a difference in the lives of young people through mentoring and other opportunities.