Podcast: Play in new window | Download (Duration: 36:07 — 15.7MB)
Subscribe! RSS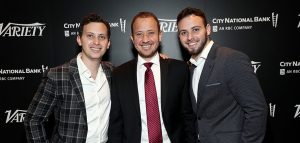 The three brothers who created the Meidas Touch PAC are the new happy warriors of politics. They gleefully donate their time and talents to skewering MAGA-preaching politicians. Their fast-response videos have generated millions of hits, and led to a burgeoning grassroots movement that supports a growing multimedia structure and an ever-increasing number of local Meidas Touch chapters.
Jeff Timmer and Mark Brewer talk about one of the most improbable stories of the 2020 campaign cycle with Meidas Touch creators Brett, Jordan and Ben Meilesas.
Ben Meiselas is a Partner at Geragos & Geragos, where he focuses on civil litigation and civil rights law. Most notably, Ben represented Colin Kaepernick in his highly-publicized lawsuit against the NFL and led a class action lawsuit against Billy MacFarland and FYRE festival. He put together the Kaepernick NIKE endorsement deal, widely regarded as one of the top marketing campaigns in history. Ben is also the co-founder of Kaepernick publishing, where he recently inked a deal with Amazon for distribution. Ben was Variety's 2019 Power of Law award recipient.
Bret Meiselas is a two-time Emmy award winning video editor and digital media strategist. He was a video editor for the Ellen DeGeneres show for over five years and ran digital media for a major sports organization, in addition to working as a creative executive for a mainstream film & TV production company.
Jordan Meiselas is a Marketing Account Supervisor based in New York City. He has been responsible for running campaigns and activations for some of the world's top brands including HBO, the NFL and AT&T.