Podcast: Play in new window | Download (0.0KB)
Subscribe! RSS
Mark Brewer discusses the ballot proposal he's launching towards getting rid of the Electoral College (no more 2nd-place finishers in the White House), and Jeff analyzes another chaotic week for Michigan Republicans as their big-ticket Mackinac Conference finishes 2nd in attendance to a grassroots rally of party insurgents.
They are then joined by nationally renowned pollster Celinda Lake.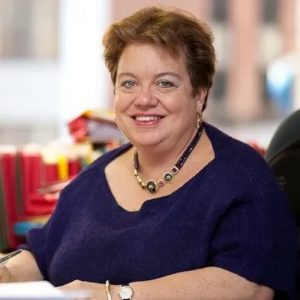 Lake is one of the Democratic Party's leading political strategists. She was one of two lead pollsters for the Biden campaign in 2020 and continues to serve as a pollster to the Democratic National Committee (DNC), other national party committees, and dozens of Democratic incumbents and challengers at all levels of the electoral process. Celinda and her firm, Lake Research Partners, are known for cutting-edge research on issues including the economy, health care, the environment, and education. Her international work has included work in Liberia, Belarus, Ukraine, South Africa, and Central America.
Since its formation, Lake Research Partners has become one of the most respected Democratic polling firms in the country. The firm's work has moved the progressive agenda forward on a variety of issues. Working against conservatives, Celinda's research demonstrated that the phrase "religious political extremists" was much more communicative than the vernacular "religious right." In the health care arena, her research has shown that talking about "reducing health care costs" is key, as well as focusing on the 8 out of 10 working families without adequate health insurance.
Lake is one of the nation's foremost experts on electing women candidates and on framing issues to women voters. American Politics calls Celinda a "super-strategist or, better yet, the Godmother," and Working Woman says she is "arguably the most influential woman in her field." She is renowned for her groundbreaking research on single women voters in conjunction with the Voter Participation Center and has helped elect numerous female candidates, including Representative Alexandria Ocasio-Cortez, former Senator Barbara Mikulski – also known as the "Dean" of Women Senators –  former Arizona Governor Janet Napolitano, former Houston Mayor Annise Parker, former Attorney General Patricia Madrid – the first Hispanic woman Attorney General in New Mexico– and former Senator Carol Moseley-Braun in her historic victory to become the first African-American woman to be elected to the United States Senate. Celinda has also worked with Speaker Nancy Pelosi, the first female Speaker of the House.
Celinda has a long record of defeating incumbents, including congressional races for former Representative Donna Edwards, Representative Jerry McNerney, and former Representative Tim Walz. Celinda has also defeated several incumbents in the Senate, electing Senator Debbie Stabenow in Michigan, Senator Jon Tester in Montana, and former Senator Mark Begich in Alaska. She polled for West Virginia Governor Bob Wise's win over incumbent Cecil H. Underwood. And, in 2006, Celinda was an integral part of the successful effort to help Democrats take back control of the House of Representatives.
Lake Research Partners has a long history of successful statewide initiative campaigns. Celinda polled in California to beat parental notification initiatives three times in a row. In 2006, Celinda helped with successful minimum wage campaigns in five states and was the pollster on the first successful effort to defeat an anti-gay marriage initiative in Arizona.
During the 1992 election cycle, Lake oversaw focus group research for the Clinton-Gore campaign and served as a general consultant throughout the campaign. She is also credited with identifying key voter groups including Reagan seniors, NASCAR dads, waitress moms, the marriage gap, and generation D. In 2005, she and Kellyanne Conway published What Women Really Want, which examines the ways women are changing the political landscape in America, with the Free Press.
Prior to forming Lake Research Partners, Celinda was partner and Vice President at Greenberg-Lake. Her earlier experience includes serving as Political Director of the Women's Campaign Fund, as the Research Director at the Institute for Social Research in Ann Arbor, Michigan, and as a Policy Analyst for the Subcommittee on Select Education.
Lake is a native of Montana—born and raised on a ranch—and one of the political world's most avid whitewater rafters. She holds a master's degree in Political Science and Survey Research from the University of Michigan at Ann Arbor and a certificate in Political Science from the University of Geneva in Switzerland. She received her undergraduate degree from Smith College in Massachusetts, where she graduated Summa Cum Laude and was recently awarded the Distinguished Alumna Medal by the College. She received the lifetime achievement award from the American Association of Political Consultants (AAPC) with Republican Ed Goeas for her work on the Battleground Poll.